Catifying Your Home: Design for the pampered cat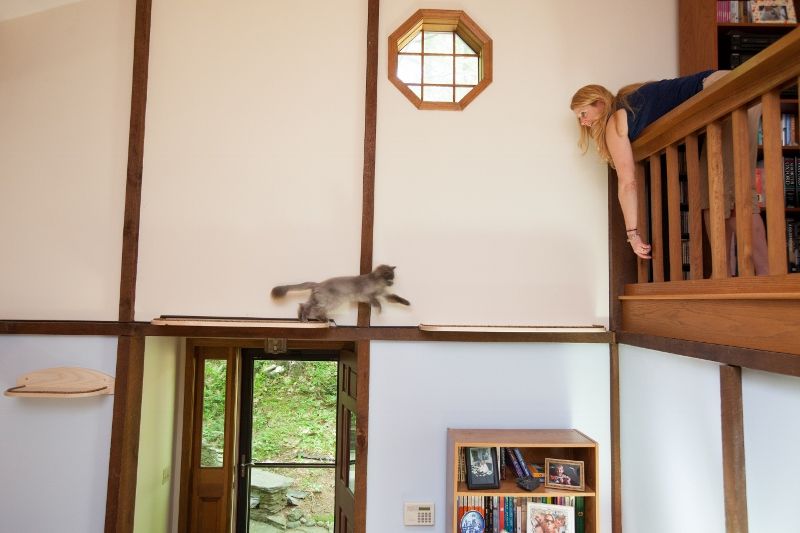 As you all know, we're big fans of feline design (also known as "catification"). This is a story that includes a combining of households and some creative design from Mountain Cat Trees!
When Eliza and Tiffany bought a home together in early 2014, they had to merge households. Eliza brought in her four cats (Agnes, Monkey, Judd and Naked) and a dog called Nora. Tiffany brought along her cats, Encore and Pluto, as well as her two dogs, Nova and Bebe.
That's a big menagerie in anyone's book! Needless to say, the couple was concerned about how this "Brady Bunch" of animals would get along. They enlisted Mountain Cat Trees, makers of highest-quality, natural wood cat trees, scratching posts and cat shelves to help "catify" the new house to make it easier for animals and people to make the transition (read Mountain Cat Trees Inspire Felines to learn about their beautiful products!)
Today, we're going to show you an entire gallery of their beautiful home and show you how simple it is to create your own home designs.
Company founder Rebecca Mountain knew that she wanted to make plenty of cat friendly walkways and perches for moving about the house. This is important because cats are territorial by nature and need their own space where they can escape to feel a little more secure. 
Rebecca knew that many of the cats would naturally be attracted to high places, where they can look down on the dogs (and the humans) and keep a close eye on any strangers that may arrive.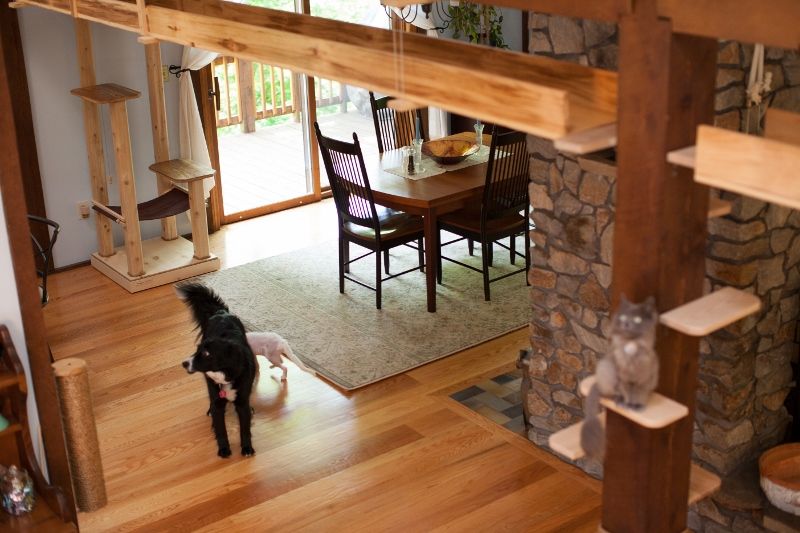 Having multiple cats means there needs to be lots of escape routes and plenty of access points where they can leap to a perch or a shelf and avoid any potential conflict.
[load_module id="210″]
Special "retreats" and hiding nooks provided plenty of areas for quiet reflective time (this is especially important for felines who enjoy their alone time.
Together Mountain and the homeowners embarked on a several month long project of installing cat shelves, window perches, "leaf wall," a cat tree wall, scratching posts and more than 30 feet of suspended cat walks.
Needless to say, the move went off without a hitch! The cats and dogs and humans are all loving the new space. The cat walks are safely out of the way of the humans, while still providing a beautiful space for living.
It's even helped one of the more "aggressive" cats – with extra space and plenty of escape routes, Pluto the cat has regained his confidence and no longer acts out due to insecurity. He spends lots of time on the catwalk and on higher shelves.
There are lots of advantages to having your cats patrol the house up high (not to mention, you no longer have to spend hundreds of dollars for a drone – now you can have your cat's camera take photos overhead!)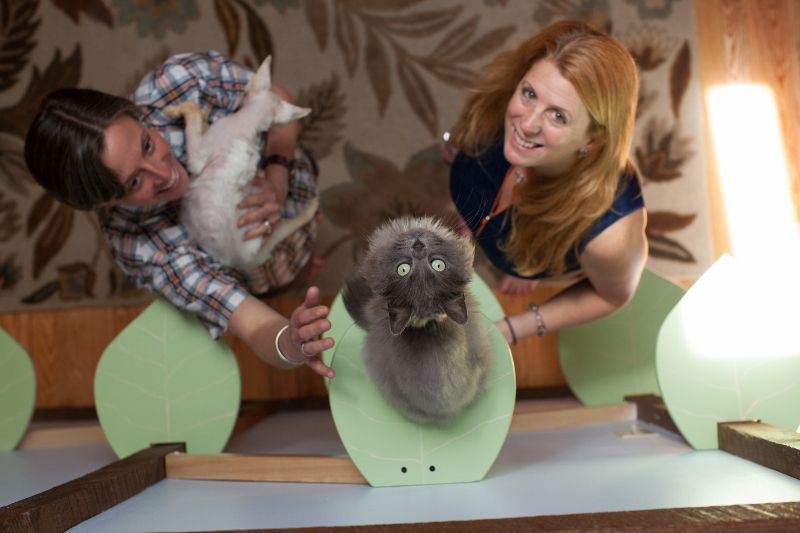 The happy family reports that most of the kitties only come down for a quick playtime or a snack (but we think the cat is a secret fan of watching The Walking Dead judging from this cute photo).

This was a beautiful project and we couldn't wait to share it with you! We hope you'll leave a comment and let us know what you think. Wouldn't it be fun to do this at your house?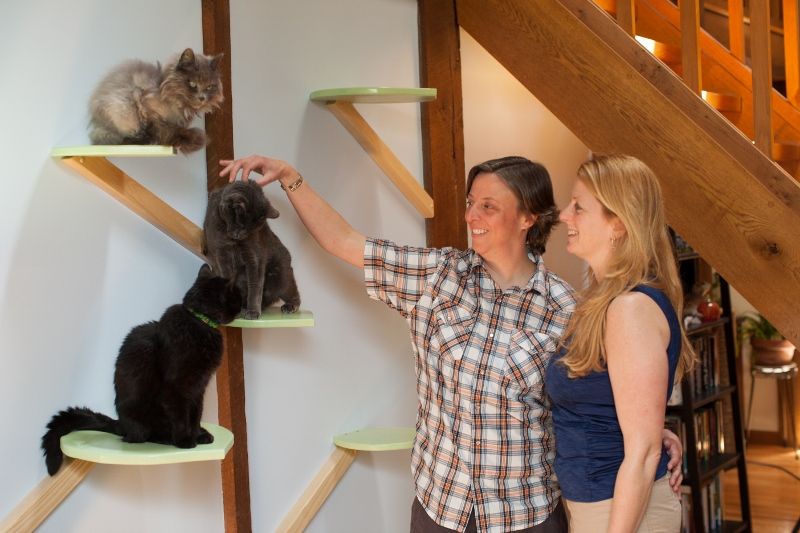 The Cat Daddy himself even praised the design! Jackson Galaxy and Kate Benjamin, Co-authors of Catification: Designing a Happy and Stylish Home for Your Cat (and You!)
said this about the project:
[bt_quote style="default" width="0″ author="Jackson Galaxy" author_url="http://www.jacksongalaxy.com"]"This is an example of Catification at its finest! The cat superhighway is fantastic, with multiple lanes and plenty of on- and off-ramps — especially important in a multi-cat household like this. All of the elements fit seamlessly into the home, matching the decor perfectly while celebrating the cats who live there. Bravo!"[/bt_quote] —Jackson Galaxy [load_module id="210″]
Whether you start out with a catio, an enclosure or a specialty cat-room, there is a way to keep your cats happy while indoors. Want to see the whole catification project? You can view a slideshow below:
Find more great design projects below: 
[load_module id="531″]