Cats
| | | | |
| --- | --- | --- | --- |
| Catifying Your Home: Design for the pampered cat | | | |
Written by Stacy Mantle
Thursday, 23 April 2015 18:48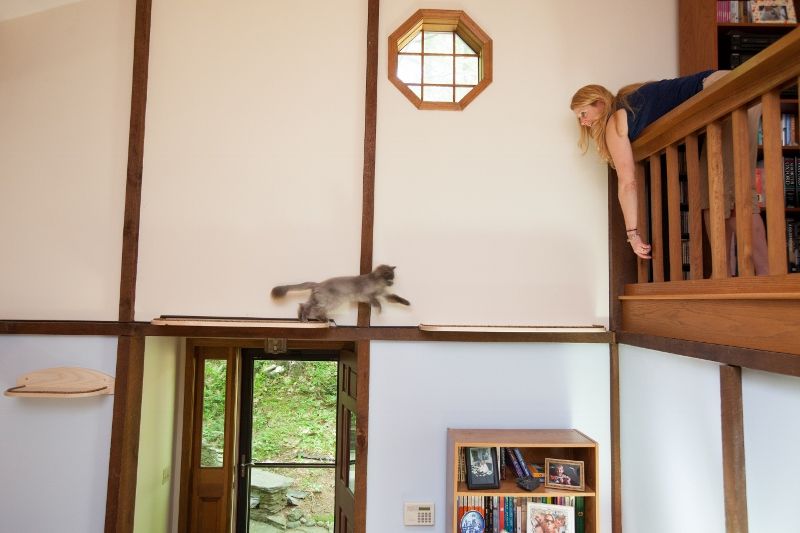 As you all know, we're big fans of feline design (also known as "catification"). This is a story that merges not only a household, but some creative design from Mountain Cat Trees!
When Eliza and Tiffany bought a home together in early 2014, they had to merge households. Eliza brought in her four cats (Agnes, Monkey, Judd and Naked) and a dog called Nora. Tiffany brought along her cats, Encore and Pluto, as well as her two dogs, Nova and Bebe.
That's a big menagerie in anyone's book. Needless to say, the couple was concerned about how this "Brady Bunch" of animals would get along. They enlisted Mountain Cat Trees, makers of highest-quality, natural wood cat trees, scratching posts and cat shelves to help "catify" the new house to make it easier for animals and people to make the transition (read Mountain Cat Trees Inspire Felines to learn about their beautiful products!)
Today, we're going to show you an entire gallery of their beautiful home and show you how simple it is to create your own home designs.
Last Updated on Thursday, 23 April 2015 18:56
Read more...
| | | | |
| --- | --- | --- | --- |
| Vetting Your Cat Veterinarian | | | |

Written by Jane Ehrlich

Friday, 17 April 2015 00:00

You check the references of your physicians. You check the references of a person who does home repair. You want to know their experience, their background, who recommends them and why.

When I researched how much feline behavior veterinarians received in their DVM curricula, I was unhappily surprised.  Even in the best universities, most (few) classes were only possible for postgraduate work. You could get as much information on sugar gliders and goats as on cats' mental and emotional life. Odd, that in a country where the most popular domestic pet is now the cat--and where more households have two cats, rather than one...

It's your fur-baby. You want someone well-versed in feline behavior, as well as physiognomy, whether obtained through coursework or experience through personal interest.   This is about evaluating the practitioner, not the practice.



Last Updated on Friday, 17 April 2015 16:56
Read more...

| | | | |
| --- | --- | --- | --- |
| Types of Aggression in Cats - Part 1 | | | |

Written by Jane Ehrlich

Monday, 06 April 2015 22:53

Whap! Snarl! Hiss! Chase! Scrabblescramble. Cry!   STOP IT!  ISAIDSTOPPIT!

Who hasn't been there?  Anyone who hasn't had more than one cat.

Aggression trails only soiling outside the box as the big behavior problem. And, until you figure out the type of aggression, it can be hard to stop it.

The good news: you can. There are several distinct kinds. Sure, it ends up the same way: someone gets hurt: you or another cat. However, the more you know about why the skirmish is happening, the better you can manage the situation. Several of the most common types include:            



Read more...

| | | | |
| --- | --- | --- | --- |
| Treat Your Cats to Healthy Teeth during #CatDentalMonth | | | |

Written by Stacy Mantle

Monday, 23 February 2015 00:00

If you're anything like me, you hate going to the dentist. I'm not sure where my deep-rooted (pardon the pun) fear originated, but I've somehow transferred my dental nightmares onto my pets. Since February is #PetDentalHealth month, we teamed up with PetSmart® to discuss dental care for cats.

As an adult, I know the best way to avoid the dentist is to avoid any dental problems. That means maintenance - for me and my pets. We do this through regular brushing and (more easily) through treats and chews (low-calorie, of course!).

In the wild, cats naturally cleanse their teeth and prevent tooth decay by ripping and slicing helps to naturally keep teeth clean. But in this day and age, it's rare that a cat hunts more than catnip toys.



Last Updated on Tuesday, 24 February 2015 16:14
Read more...

| | | | |
| --- | --- | --- | --- |
| Cats: Treats vs. Poison Infographic | | | |

Written by Pack Leader

Sunday, 22 February 2015 00:00

As you know, we work very hard to bring you the latest updates on anything that could impact your pet's health, particularly when it comes to foods.

A cat's digestive system is very complex. They lack specific enzymes to properly process foods that you and I would find easy to digest. Cats are obligate carnivores and must receive a percentage of protein in their diet every day. In fact, many cats do incredibly well on a raw diet because of this difference.

Recently, VetMedic asked us to help us send this informative graphic out to you and we thought it was a great idea for all of our readers to have this pinned to their refrigerator! Read on for a fun and informative info-graphic that clearly shows what types of "people food" and "table scraps" are safe for your cats, and which ones you should avoid completely!

We also take a moment to explain how to choose a bone that your cat can gnaw on during the day. As you know, gnawing promotes healthy teeth and gums (particularly important during Pet Dental Month!

Please share. That's how we get information out and how we can educate others about safe foods for cats.



Last Updated on Sunday, 22 February 2015 23:10
Read more...
<<

Start

<

Prev

1

2 3 4 5 6 7 8 9 10 Next > End >>


Page 1 of 27